Mitchell Subaru Supports the Subaru Love Promise In Our Community
How We Honor Subaru's Love Promise Pillars at Mitchell Subaru
Mitchell Subaru has been continuously recognized for our work out in the community. We take any opportunities we can to uphold the Subaru Love Promise Pillars by getting involved in our local community through various volunteer opportunities around Canton, CT. No matter which aspect of volunteerism speaks to your heart, we have a Love Promise Pillar for you and a cause where you can get involved. Join us on our mission to give back to our community with our Subaru Love Promise Pillars.
We want to be a force for good and be responsible stewards in our part of the world. Through our participation in the Subaru Love Pillars, we hope to provide holistic solutions in each category that will support the initiatives most important to our community members.

Subaru Loves Learning
Subaru Loves Learning is an initiative dedicated to ensuring equal and fair education opportunities and supporting good quality education for all. We've partnered with AdoptAClassroom.org to help provide supplies and learning materials to some of our local schools, like Cherry Brook Primary Schhol. Through our efforts, our kids are some of the 300,000 students nationwide getting direct help from our program.
We also support Subaru's partnership with the American Association for the Advancement of Sciences (AAAS) by contributing part of the 369,393 science books to schools in communities nationwide.

We love pets at Mitchell Subaru! We participate in dozens of pet adoptions and other events that help support our favorite furry friends around Canton. Most recently, we are partnered with The Roaring Brook Veterinary Hospital, which does great work in our community caring for our pets and helping to control the stray pet population in our area.
Nationwide, Subaru Loves Pets also includes support for animals in the wild. Through our efforts, Subaru has donated over $28 million to the ASPCA. We are proud to be part of helping the 230,000 animals Subaru has helped rescue, transport, adopt, and provide general well-being and services to keep them safe.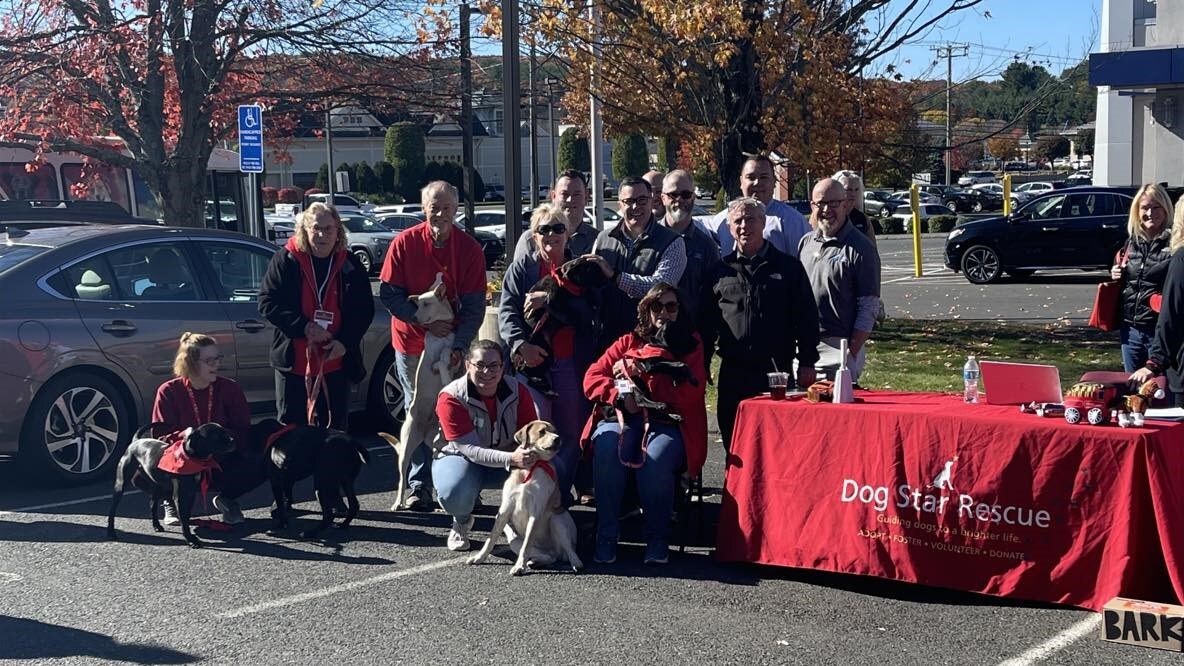 Subaru Loves to Care
Mitchell Subaru is proud to support efforts through our partnership with the Leukemia & Lymphoma Society. We've helped donate over 167,000 blankets and 21,500 arts and crafts to provide warmth and morale to people suffering from long-term diseases and blood disorders. Going through the treatment process for leukemia and lymphoma can be a long hard road, and small gestures can help provide comfort and hope.
As part of the Subaru Loves to Care Pillar, we have partnered with the Connecticut Children's Medical Center Foundation in Hartford. The Foundation works to support children and their families in Connecticut by helping raise funds to provide lifesaving dialysis treatments and infrastructure like the Infusion Center.
We are dedicated to spreading warmth and joy, some efforts include delivering blankets, arts and crafts kits, and handwritten messages to let them know they are not alone. Small gestures sometimes make all the difference in boosting morale and helping people going through a tough time.

Subaru Loves the Earth
We support efforts to improve our eco-consciousness. Capital City Subaru is working to reduce waste and care for our natural spaces around the state. We are proud to be part of a company that manufactures all products in zero-landfill production plants. The Subaru plant in Indiana earned the distinction of being the only automotive production plant in the United States that has a designated wildlife habitat in its own backyard by the National Wildlife Federation.
In support of Subaru's Love the Earth Pillar, we are proud supporters of TerraCycle and work to capture hard-to-recycle trash and give it a second life to keep it out of Canton's landfills. We have also partnered with Save the Sound in New Haven, CT, which works on initiatives to preserve and protect areas along the Long Island Sound. They fight climate change, save endangered lands, protect the Sound and its rivers, and work to restore natural ecosystems. Our goal is to make the world more sustainable and lean towards greener solutions for some of our toughest ecological problems.

Subaru Loves to Help
To fulfill the Subaru Loves to Help Promise, we've partnered with our local non-profit social welfare organization, Friends of Forgotten Children. They are a 100 percent volunteer-run organization that helps low-income and at-risk individuals get the food and clothing they need. They have been supporting the people in our community since 1972.
Nationally, Subaru supports multiple organizations helping address food insecurity across the United States. Some other organizations we support through this partnership include Feeding America, Meals on Wheels, and the American Red Cross.
Support the Subaru Love Promise in Your Neighborhood
Supporting the Subaru Love Promise is all about lifting our community and participating in many initiatives to support the people and living things that make up our home in Canton, CT. We hope you will join us in our efforts to give back and make our little slice of earth an even better place to live. Let Mitchel Subaru know which Love Promise Pillars are closest to your heart and any initiatives we could help support. We'd love to hear from you!
Learn More About the Subaru Love Promise