The 2021 Subaru Love Promise Customer and Community Commitment Award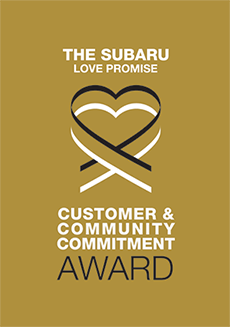 We've been nationally recognized for our dedication to our customers, our community, and the Subaru Love Promise.
We're honored to receive the 2021 Subaru Love Promise Customer and Community Commitment Award. This award nationally recognizes elite Subaru retailers who provide an exceptional customer experience at every interaction with Subaru. These retailers have also demonstrated an outstanding commitment to supporting passions and causes in their local communities in important areas such as the environment, community, health, education, and pets.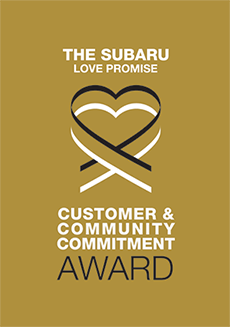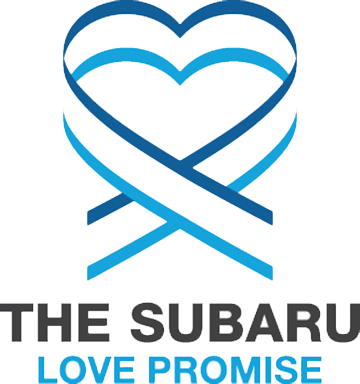 What is the Subaru Love Promise?
Subaru and our retailers believe in making the world a better place and the Subaru Love Promise is our vision of respecting all people. This is our commitment to show love and respect to our customers and to work to make a positive impact in the world.
How is Mitchell Subaru dedicated locally to the Love Promise?
Our Love Promise is demonstrated through the close relationship we maintain with dozens of local businesses, charity groups, and non-profit organizations in our region. We have been honored to serve the very community we have been a part of for over thirty years, and will continue to do so for decades to come.
Our Companions Animal Rescue, The Simon Foundation, Inc., Connecticut Greyhound Adoption - GPA
Roaring Brook Nature Center, Blue Jeans Go Green TM
Toys For Tots, Canton High School Football, FAVARH/The Arc of the Farmington Valley, My Sister's Place, Inc., The Village for Families & Children
Connecticut Children's Medical Center, Healthy Eyes Alliance, National MS Society, The Rob Branham Foundation, American Red Cross
Love Promise Stories from Mitchell Subaru
Subaru and Mitchell Subaru believe in making a positive impact on the communities in which we live and work. We uphold that belief through our Love Promise Community Commitment. Every month, we select inspiring stories from customers and partners from around our area who strive to support our collective commitment and feature them here
Mitchell Subaru Loves The Simon Foundation - Jane Z
This year we donated toys, clean up bags along with pet carriers and other items to our friends at the Simon Foundation. Due to Covid we had to do this virtually.
---
Mitchell Subaru & South Park Inn - Kandyce A
Mitchell Subaru was proud to help our friends at the South Park Inn by donating 80 blankets. South Park Inn's mission is to assist men, women and veterans experiencing homelessness and to help improve their life situation by providing temporary and long-term housing, as well as supportive services. In addition, they advocate for solutions to homelessness.
---
Meals on Wheels Farmington Valley - NICOLE B
Mitchell Subaru assists in the delivery of meals to our local seniors. Our Meals on Wheels clients truly love having the volunteers deliver the meals. This may be the only time they have a visitor all day.
---
Bringing Warmth and Love to the Cancer Patients! - Daniela V
Mitchell Subaru and The CTWHV Chapter of the Leukemia & Lymphoma Society (LLS) have partnered to make a difference in the lives of people battling cancer in the Hartford community. The partnership called Subaru Loves to Care provides warm blankets, kids' craft kits and loving messages of hope and inspiration written by Subaru customers to patients fighting cancer at CT Children's Foundation. HUGE Thank you to Mitchell Subaru for donating 80 beautiful blankets and 10 craft kits to CT Children's Foundation to spread warmth to their patients. Patients are in the infusion center for hours at a time and these blankets keep them warm as they are going through treatments. The craft kits are a way to help patients and family members keep busy while they undergo treatment. On behalf of LLS and everyone fighting or in remission from cancer and the people who love them, huge and heartfelt thanks to Mitchell Subaru and the entire Mitchell Subaru family for joining the LLS mission to create a world without blood cancer.
---
Litchfield Hills Beer & Wine Festival for STRIDE - Lisa F
We are pleased to report that as a Premier Sponsor of the Litchfield Hills Beer & Wine Fest held on June 8, 2019 we were able to raise more than $50,000 for the Brooker Memorial's programs, St. Maron Church activities and STRIDE.
---
Partner with Roaring Brook Nature Center - Margery W
Our friends at the Roaring Brook Nature Center in Canton, Ct. are raising money to purchase an emergency generator for the Nature Center. A "Housewarming Party" was held on Saturday, March 30. There was live music, dinner & drinks, a silent auction, owl prowl, stargazing, and more.
---
Great Bike Giveaway - Kirsten V
Lenaya is a local 10-year-old with 2Q37 Deletion Syndrome and lives with her family in Torrington Ct. The Rifton Adaptive Tricycle will provide her with "reciprocal; exercise" to help build muscle and strength. For each like on our Facebook post we donated a $1 towards her bike. Mitchell Subaru raised $590 as well as helping to spread the word with our partners enabled Lanayas family to get her bike. https://www.wfsb.com/news/torrington-family-surpassed-donations-for-a-specialized-bike/article_8f7fc326-33b6-11e9-94f7-33ad7175e393.html
---
Mitchell and Grace Aceademy book donation - Emma D
Grace Academy is a comprehensive educational program for girls' grades 5-8. We are providing a rare opportunity for students to experience a tuition-free, college preparatory education in an atmosphere of respect and responsibility. We offer a structured, challenging and supportive educational program for students of all faiths in Hartford. We work to inspire intellectual, spiritual, moral, social, creative and athletic growth of each young girl and to nurture in a small school setting the full potential of her whole character.
---
Mitchell Subaru Pet Adoption - Alyson G
Mitchell Subaru is hosting a pet adoption event on Saturday, September 1st with Hole In One Animal Rescue. At Mitchell Subaru, we think pets make our lives better. That's why we have partnered with Hole In One Animal Rescue to provide you with the chance to show your love by adopting a pet in need. All they want is to be loved in a safe and loving home. We hope that you will consider joining us in our ongoing commitment to keeping animals safe and healthy.
---
Mitchell Subaru Collects Denim for a Cause - Julie H
For the month of March, Mitchell Subaru Loved the Earth by collecting denim of all sorts to support the Blue Jeans Go Green program. With no limitations on style or condition of the denim, the collection boxes filled three times over throughout the month. Everything sent will be recycled into UltraTouch Denim Insulation which helps to keep textile waste out of landfills and aids building efforts in communities around the country. We are proud to share that we collected over 60 pieces of denim from staff and community members. Mitchell Subaru's focus on Love Promise initiatives are dedicated to making a positive, green impact on our community and making the world a better place.
---
'Business After Hours' with Mitchell Subaru - Julie H
Mitchell Subaru was honored to host the Canton Chamber of Commerce "Business After Hours" gathering session for the month of March. It gave us more opportunity to connect (and reconnect) with the other local businesses and entrepreneurs who help us make this town and community exceptional.Live local, support local, shop local!
---
Mitchell Subaru Loves Greyhounds - Cindy T
Yet another Greyt event with Connecticut Greyhound Adoption (affiliate of GPA) at Mitchell Subaru. We even had a moment of puppy love-at-first-sight with Maddie, a pup needing a Forever Home, and her potential new hooman! The bi-monthly events serve as a meeting space for greyhound owners to mingle and for moments like Maddie's, where she has the best chance to find her Forever Home by meeting new people and making a lasting impression.
---
Community Owner Outreach and Love Promise Support - Julie H
At Mitchell Subaru, we take our community involvement and Love Promise very seriously. To reflect those commitments, we encouraged owners to visit us for an Owner Appreciation Night where they could ask questions about their vehicles, enjoy some snacks and meet our regional Subaru Ambassadors. To round out the evening, Karen Jenkins, Director Emeritus, League of American Bicyclists and owner Steven Mitchell shared a fantastic series of presentations working towards the establishment of Canton as a bike-friendly community! Featured in the photo - left to right: Stuart Popper, Town Planner, City of Cromwell; Susan Mitchell, Founder of US Horse Welfare; Karen Jenkins, Director Emeritus, League of American Bicyclists; Steven Mitchell, Vice President, Mitchell Auto Group; Jennifer Pittello, Subaru Ambassador; Bruce Donald, East Coast Greenway Tri State Coordinator (CT, NY, NJ); Tim Bowman, Bicycle Friendly Canton Committee Chairman.
---
Share The Love - Olivia's Story - Julie H
Put a little love in your heart this holiday season. Learn about our selection of the Connecticut Children's Medical Center as our hometown charity for the 2017 'Share the Love' event, and meet Olivia, one of the Center's patient ambassadors. Olivia started life at a disadvantage, with pulmonary atresia (only half a heart), gut malrotation (her intestines were not anchored properly), situs inversus (the position of major organs reversed in a mirror image of normal positions), and no spleen. Fortunately, the specialists at Connecticut Children's were able to address all of Olivia's health challenges. Her first heart surgery took place when she was only 48 hours old, and there have been several more since then. Today, at age 12, Olivia is a straight-A, eighth-grade student in Southington as well as a member of the National Junior Honor Society and several school clubs. She dances competitively with the Apogee Dance Academy and was chosen for a six-week robotic program at the Connecticut Science Center. Olivia's goal is to pursue a career in medicine, and she hopes to attend Yale, Harvard or Princeton. For Olivia, and others like her, consider Connecticut Children's Medical Center for your Share The Love donation choice, and help make the world a better place.
---
Share The Love - Gavin's Story - Julie H
Put a little love in your heart this holiday season. Learn about our selection of the Connecticut Children's Medical Center as our hometown charity for the 2017 'Share the Love' event, and meet Gavin, one of the Center's patient ambassadors.Gavin was only six months old when he suffered his first seizure, marking the beginning of a harrowing medical journey. Gavin's seizures, which originally would last between 25 and 45 minutes, were accompanied by fine motor skill impairment and developmental delays. His condition stumped medical professionals for years – until he was diagnosed with cortical dysplasia four years ago. Shortly thereafter, DNA testing confirmed he also suffers from a rare disorder known as Dravet syndrome, making him one of approximately five known individuals to have both conditions. While his journey has not been an easy one (today his seizures can last lengthy periods of time), Gavin, who is 12, remains positive and continues to fight like the true champion he is with the expert care he receives at Connecticut Children's. Moreover, he is a beloved patient ambassador for Connecticut Children's Medical Center, and regularly meets with groups to tell them about the critical care and therapies provided by Connecticut Children's. He has even held his own fundraisers in support of the Medical Center, successfully raising thousands of dollars to support other patients and their families. For Gavin, and others like him, consider Connecticut Children's Medical Center for your Share The Love donation choice, and help make the world a better place.
---
Service for and with Others - Matthew F
Each year, many organizations and corporate partners join with Grace Academy students in a spirit of service to others. This semester, the Grace community elected to help the residents of Ellis Manor, a nursing home for low-income elderly residents in Hartford, many of whom rarely see a visitor. The Mitchell Auto Group, owner of various auto dealerships in the greater Hartford region, sent employees from their Subaru dealership to donate items and work with Grace students on September 19. Subaru hosted a Subaru Loves Learning afternoon at our school and their team provided science books, school supplies and they helped design and write Christmas cards for the Ellis Manor residents. "Volunteers are love in motion!" - Anonymous
---
Mitchell Subaru Loves Pets, Hosts Adoption Event - Julie H
Throughout the month of October, Mitchell Subaru partnered with The Simon Foundation, Inc. located in Bloomfield, Connecticut for the "Subaru Loves Pets" community initiative. With a goal of raising awareness for the animal shelter and collecting donations, our Subaru Loves Pets initiative was a tremendous success. We started our month distributing orange "Subaru Loves Pets" bandanas for our drivers to show off on their four-legged family, and continued with a pet-friendly event and collection station on our Canton, CT showroom.Our donations to The Simon Foundation, Inc. included dog and cat food, cat carriers, a few dog crates, some toys, and many hand-made fleece blankets, along with ten shelter supply kits and five new pet parent kits. We rounded out the month with an adoption event in our Canton showroom on October 28th. Three adoptable dogs joined our sales staff in greeting our guests (which you can imagine put big smiles on every face that walked through our doors). Of all our Love Promise events, the wagging tails definitely attracted the most attention -- possibly more so than the cars! We know this terrific no-kill shelter will put our items to good use as they continue to honor their passion of placing every animal into a 'forever' home. The month-long program is part of Mitchell Subaru's larger Love Promise Community Commitment effort, dedicated to making a positive impact on the world."Until there are none: adopt one."
---
Mitchell Subaru Loves Learning Donation - Julie H
With the guidance of Subaru of America, and the partnership with the American Association for the Advancement of Science, Mitchell Subaru donated 150 engaging science books to the Grace Academy in Hartford. Each book contained a label or bookmark personalized by Mitchell's staff and clients, encouraging readers to embrace the sciences. Spending the day reviewing and reading the books with students, our staff got to see first-hand the eagerness and energy these young minds demonstrate. In addition, our sales and service teams held a school supply donation drive, resulting in four boxes of materials that the Grace Academy students immediately put to use creating artwork to be used in their own charitable giving effort for a local convalescent home. Knowing that Mitchell Subaru's donation immediately made a positive impact on the students at Grace Academy and helped them to brighten the lives of those in their community is the highlight of our Love Promise.
---
Love Promise Delivery - Daniela H
On July 13, 2017 LLS staff member Daniela Hincapie met with Jill Mitchell of Mitchell Subaru (Canton, CT) and their staff, to deliver 12 craft kits + extra art supplies , over 100 blankets and messages of hope, to Connecticut Children's Medical Center. We felt honored to have worked on this lovely campaign with Jill. They were greeted by Chrissa Caramia and a few other of the staff at the facility who were very grateful for the donation to their patients. We were lucky to have brave Gavin who is a cancer patient at the children's hospital. The blankets provide much needed support and "warmth" to patients fighting cancer. Huge thank you to Mitchell Subaru for making this possible and having a big impact in their community!
---
Mitchell Subaru Loves to Care Donation - Julie H
This summer, Mitchell Subaru collected over 100 blankets and dozens of art supplies to donate to patients with cancer, and their families. We also gathered dozens of personal messages of hope from our staff and customers who wanted to share their support. With the organizational help of the Leukemia & Lymphoma Society (LLS) in Stamford, we loaded our wagons and brought the collection to our friends at the Connecticut Children's Medical Center (CCMC), an organization we've been immensely proud to work with in recent years to support the care and comfort of our most precious passengers. Learn more about the Subaru Love Promise initiative, and the many ways Mitchell Subaru shows its love for organizations like these, at mitchellsubaru.com/love, or by talking with our staff here in Canton, Connecticut.
---