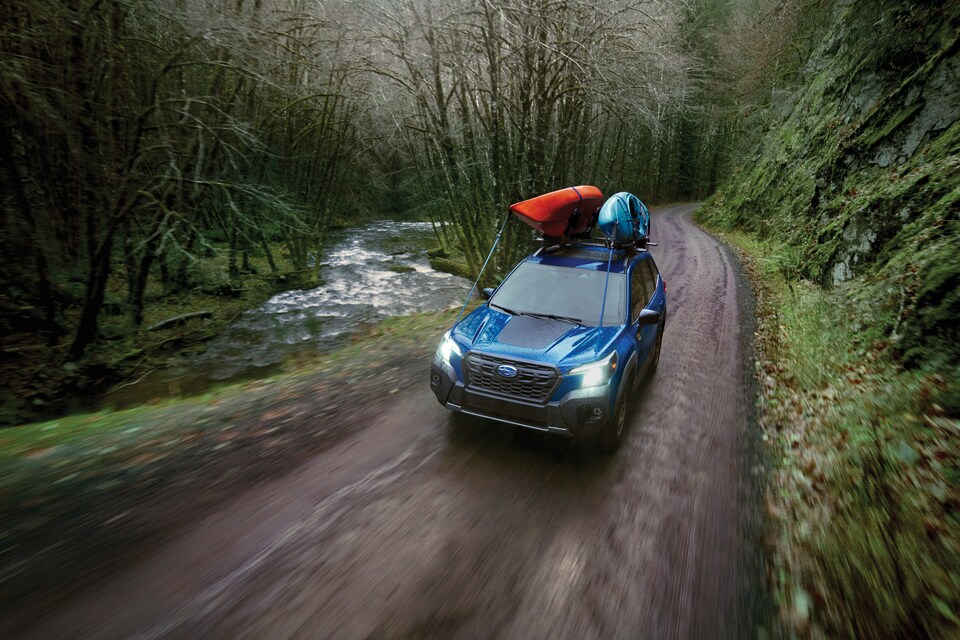 Performance of The Forester Wilderness

If you're investing in a full-size SUV, you expect it to perform. Manufacturers at Subaru are well-aware of that, which is why the Forester Wilderness is equipped with a 2.5-liter four-cylinder that delivers smooth acceleration, 182 horsepower, and 176 lb-ft of torque. The Forester's continuously variable transmission helps the SUV deliver a smooth ride over long distances and also improves upon the SUV's overall MPG.
The Forester is being marketed as a vehicle suitable for off-roading, and we think it deserves that reputation. The upgraded suspension gives the vehicle over 9.2 inches of ground clearance, allowing it to pass over even the roughest terrain with relative ease. The Forester Wilderness has also been given a higher towing capacity of 3,000 pounds, which is significantly higher than other Forester models.
Safety
Drivers care a lot about safety features, and for a good reason -- we all want to feel secure when we're out on the open road. The Forester Wilderness has been decked out with many of these safety features to help drivers stay aware of their surroundings at all times. That's right -- the Forester Wilderness comes with standard Eyesight Driver Assist Technology.
This innovative system tracks surrounding traffic, helps regulate cruise control, and keeps drivers from swerving outside their lane. This kind of technology can play a key role in keeping drivers safe on a busy highway with other cars around.
Another safety feature worth bringing up is the Advanced Automatic Collision Notification, which alerts a remote operator if any collision has occurred.
Design
A vehicle's design might not seem like the most important thing, but it can help to establish a vehicle's feeling and personality. Nobody wants to drive a boring old car. We all want something with style and substance. The Forester Wilderness has been given Anodized Copper accents in its interior to help showcase its brassy feeling. The exterior looks rugged and durable. Its exterior also boasts a protective cladding to protect its various impact zones and wheel wells when you're treading off the beaten path with it. In our opinion at Mitchell Subaru, this all helps bolster the feeling of adventure that you get when you see the Forester Wilderness.
Trim Levels
The Forester Wilderness is one of six available trims for the Forester.
Base
The Base trim level is packing some serious power with its standard 2.5-liter BOXER engine and symmetrical all-wheel drive.
Sport
The Sport kicks things up a notch from the Base with its standard roof spoiler and body-color folding side mirrors, which help give it just a bit more personality.
Premium
The Premium comes standard with all-season tires and fog lights, making it a quality upgrade from the Base model.
Limited
With standard leather-trimmed upholstery and black, 18-inch aluminum-alloy wheels, the Limited makes quite a first impression.
Touring
This model adds a touch of luxury to the Forester. It has satin chrome side mirrors, a panoramic power sunroof, and raised roof rails for added cargo space.
Wilderness
Built for off-roading and taking the Forester where others said it couldn't go, this trim level is worth the investment if you're keen to adventure in an SUV that can handle the journey.
Visit Mitchell Subaru in Canton, CT Today!
Make your way to Mitchell Subaru to learn more about the new Subaru Forester.